In 2004, we were fortunate enough to take a 7-day, 7-night cruise to the Western Caribbean. Highly recommended!
Houston | At Sea | Cozumel | Roatan | Belize | Cancun | At Sea || Ship Details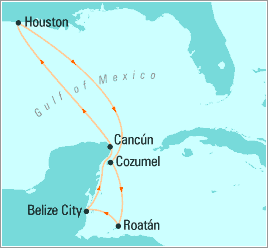 March 6, 2004
Norwegian Cruise Line
Ship Name: The Norwegian Sea
Ship Details: Click here.
Itinerary: A 7-night cruise departing from Houston: Houston, At Sea, Cozumel, Roatan (Honduras), Belize City, Cancun, At Sea, Houston

NOTE: The images for this trip were taken with a (borrowed) Sony DSC-92. It's 5.0 megapixels, but almost all the photos were taken at 1.2. It's compact (fits comfortably in one's pockets), functional and quite nice.
---