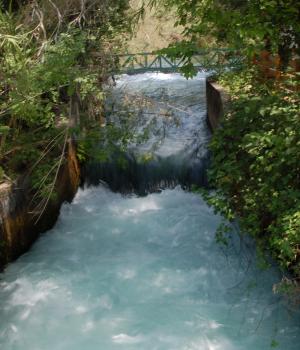 Tel Dan is a lovely place that's almost a paradise, with the Chatzbani river (one of the Jordan River's tributaries) running through it! These days, it's kept as a nature preserve. It's in the upper Galilee area, near the Golan Heights.  Strangely enough, archaeological finds there date back to before the pyramids. It was abandoned for over 1,000 years before the Canaanites took it over. In 1992, while cleaning up a mess from the Assyrian conquest of 733BC, archaeologists stumbled upon an old gateway that led to a throne built by Jereboam.
Joshua 19:47 describes its conquest and settlement by the tribe of Dan. Unfortunately, it had something of a mixed history with more bad than good. When Solomon died and Rehoboam took his place, the first thing he did was raise the taxes on an already over-taxed people. The northen 10 tribes decided they had enough and split, appointing Jereboam as their king. Jereboam didn't want his people traveling all the way down to Jerusalem to worship, so he set up two altars: one in Dan and the other in Bethel (right next to Jerusalem) so that people could come to his altars instead of going "all the way down" to Jerusalem – right next door to Bethel. Truth is, he was afraid of losing his kingdom and was simply appeasing the masses.
The next thing you know, golden calves are there and the nation of Israel (the northern 10 tribes, not Judah, the southern 2 tribes) slips into idolatry.
Moral of the story – don't cater to the masses. And when God says that Jerusalem is the only place to offer sacrifices, don't set up secondary altars!
– – –
| | |
| --- | --- |
| | |
| | |
| | Here's a high place (altar). |
| | Steps near the city's gate. |
| | The metal structure is the approximate size of the altar set up by Jereboam. It stands about 6′ high. |
| | |
| | On the back side of the location is a gate dating all the way back to when the Canaanites were in the land (1500BC). |
<
---