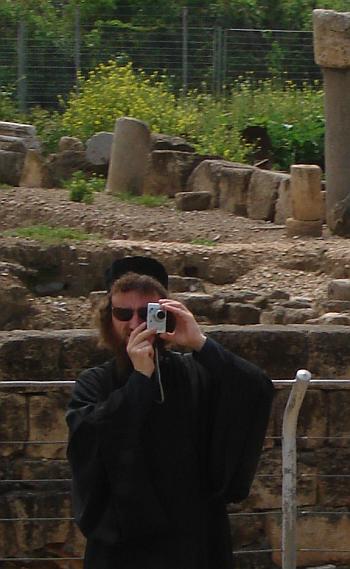 Another gorgeous stop was Caesarea Philippi. Situated 25 miles north of the Sea of Galilee and at the base of Mt. Hermon, Caesarea Philippi has one of the largest springs feeding the Jordan River. Its natural beauty cannot be overstated! Small wonder that so many temples and statues of gods were erected here during the Hellenistic (Greek) and Roman periods.
If you want a natural paradise, this is about as good as it gets! Next time I go there, I'm bringing a picnic basket!
– – –
The place was littered with Greek and Roman stone and architecture. Back in Jesus' time, there was no shortage of Greek and Roman gods on display for all to see. No doubt Jesus was taking advantage of the cultural backdrop of shrines to various gods in Matt 16.When Jesus came to the region of Caesarea Philippi, He asked His disciples, "Who do people say that the Son of Man is?"

And they said, "Some say John the Baptist; others, Elijah; still others, Jeremiah or one of the prophets."
"But you," He asked them, "who do you say that I am?"

Simon Peter answered, "You are the Messiah, the Son of the living God!"

And Jesus responded, "Simon son of Jonah, you are blessed because flesh and blood did not reveal this to you, but My Father in heaven. And I also say to you that you are Peter, and on this rock I will build My church, and the forces of Hades will not overpower it. I will give you the keys of the kingdom of heaven, and whatever you bind on earth is already bound in heaven, and whatever you loose on earth is already loosed in heaven." And He gave the disciples orders to tell no one that He was the Messiah. (Mat 16:13-20 HCSB)

This region is also the same place where the Transfiguration took place.

We didn't get a chance to check out the caves. Darn.
---