In the spring of 2006, we had the good fortune to take a cruise on a Carnival 5-day Western Caribbean cruise.
Galveston | At Sea | Playa del Carmen | Tullum | Xel-Ha | At Sea | Ship Details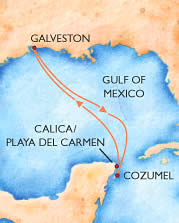 Feb 16, 2006
Carnival Cruise Lines
Ship Name: Elation
Ship Details: Click here.
Itinerary: A 4-night cruise departing from Galveston, TX to Calica/Playa del Carmen, Mexico and then back again.
NOTE: The following images were taken with a Nikon 3200. Some were taken with a Nikon D50
---