Israel 2007 | Greece 2008 | Egypt/Jordan 2010

In April, 2007, we had the good fortune of going to Israel with Dr. Dave Reid. Dr. Dave calls it a Bible STUDY tour. He wasn't kidding! His tour emphasizes archaeological sites and references to stories, events and people found in the Bible. Many of the places visited are archaeological sites dating back to Biblical times. To say his tour is educational would be an understatement! Find more about his excellent ministry and "vacation" tours at www.GrowingChristians.org. Our dear brother went to be with the Lord on January 31, 2012.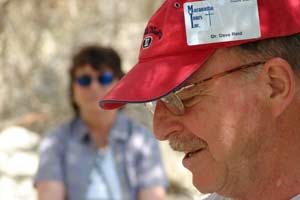 Dr. Dave (and wife Margie)
This section of the website is dedicated to our tour of Egypt and Israel in 2007 with Dr. Dave and Margie. There are 43 web pages for this trip, and the links for each page can be found on the menu on the left.
(Be sure to visit Greece 2008 and Egypt/Jordan 2010)
The 10-day tour started at JFK International Airport. We flew from there to Istanbul, Turkey. Because we had such a long layover in Turkey, we planned a quick tour of the city. From there, we flew to Cairo, Egypt. Our 3 day stay there included the pyramids, Cairo Museum and more. From there, we drove to Mt. Sinai, taking the path that the Israelites most likely took during their Exodus from Egypt back in 1440BC. We stayed at Mt. Sinai for one night then continued on to the Dead Sea. After the Dead Sea, we stayed at the Sea of Galilee for 2 nights then to Jerusalem for 3 nights. The typical daily agenda involves getting on the bus at 8am, hitting up several sites till lunch (1 hr) then pedal-to-the-medal again till 6pm dinner at the hotel. After dinner, we'd discuss what we'd seen that day and how to prepare for the next day. Dr. Dave would then take questions about the day (archaeological, historical and theological) till about 10pm. Then back to the bus at 8am again the next day. For 10 days. If you are not physically fit or if you have a health disorder, I probably wouldn't recommend taking one of his tours unless you don't mind sitting on the bus a lot.
Some of the photos on this website are also posted on Panoramio, and are probably listed on Google Earth (http://earth.google.com). Seeing the photos in their geographical context is kinda neat. Check out www.panoramio.com/user/402764 to see photos that I posted to Panoramio.This website covers Dr. Dave's Egypt & Israel tour for 2007 in the order of the places we visited. Hints for navigating the website:

-There are over 500 photos, 40+ videos clips, and a half-dozen maps, with commentary. The opinions here are my own, and may or may not need further correcting and editing. If you see anything that needs correcting, feel free to let me know .. and I'll think about it. 🙂
-Be sure to visit all ten days. Lots of good stuff out here.
-After Day 10, check out the last few items: Jerusalem Through The Ages, Map of Israel (featuring the locations of the stops we made in Israel), the videos, and some off-site links. One is a fascinating interactive map of Israel, and the other is a scroll-able view of the inside of the Great Pyramid (on the PBS website). Pretty interesting stuff.
-Most pages on this site have a link at the top that will take you to someone else's map or website with more information about the location in question. If you're interested, there's lots of information about each place available at Wikipedia.org and Google.
-For speed purposes, the photos and videos are compressed. If you want originals, just ask. (See fine print below).

Have fun!
<
---