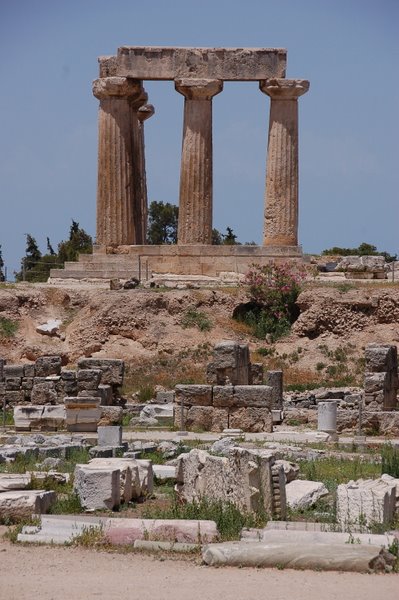 Whenever I think of Corinthians, I think of rampant hedonism and debauchery. But I'd never bothered to think that it might be an actual city still in ruins today in Greece.
The city of Corinth dates back to well before 2,000 BC. It straddled the Corinth Isthmos, the narrow strip of land that separated the Peloponnese peninsula from mainland Greece. It had two sea ports: one in the Corinthian Gulf, the other in the Saronic Gulf (Adriatic and Aegean Sea). As such, it was a major port on the trade routes through the area.
Although it had been destroyed by Lucius Mummius in 146BC, Julius Caesar rebuilt the city shortly before his assassination. It became the seat of the Roman government in southern Greece and was noted for its wealth, luxury and immorality. As a major sea port, it attracted people of many nationalities and beliefs. It was dominated by the Acro-corinth and the temple to Aphrodite. Temple prostitutes and a large mobile population helped give Corinth a reputation for every sexual behavior imaginable.
When Paul first visited the city (AD 51 or 52), Gallio, the brother of Seneca, was proconsul. Paul resided here for eighteen months (Acts 18:1-18). It was here that he met Aquila and Priscilla, and soon after his departure Apollos came from Ephesus.
Paul visited Corinth for a "second benefit" (2 Corinthians 1:15), and remained for three months, (Acts 20:3). During this second visit in the spring of 58AD, it is likely the Epistle to the Romans was written. Paul also wrote two of his epistles to the Christian community at Corinth. The first Epistle reflects the difficulties of maintaining a Christian community in such a cosmopolitan city. (That doesn't sound like the modern USA to you, does it?)
– – –
This section of Corinth is about 3 acres and in the neglected portion of the ancient ruins. I guess it's on the wrong side of the road or something.South of Corinth, in the background of this photo, is the "acro-Corinth" up on top of the hill.
In 1929, this marble block was uncovered: "ERASTVS. PRO. AED. S. P. STRAVIT", which is an abbreviation of ERASTUS PRO AEDILITATE SUA PECUNIA STRAVIT. The inscription translates as "Erastus, in return for his aedileship, laid this pavement at his own expense". In Rom 16:23, Paul spoke of Erastus the city treasurer at Corinth. Our guide didn't know about this. This same Erastus is mentioned in Acts 19:22 and 2Tim 4:20.
If you cross the road and head to the southern portion of ancient Corinth, the first thing you see is the Theater. Things get a bit more interesting on this side of the road.
Temple of Octavia.
Pillars near the museum.
Lots of pillars everywhere.
A neat little farmhouse with the acro-corinth in the background.
The Bema Seat.
Runners would start at the eastern end of the market place. There were notches carved out in the stone where runners would place their feet. Much like sprinter's blocks on a modern track.Sprinters would race a couple hundred yards and end up in front of the Bema Seat, where the judges would hand out wreaths to the winners.
Now I do all this because of the gospel, that I may become a partner in its benefits. Do you not know that the runners in a stadium all race, but only one receives the prize? Run in such a way that you may win. Now everyone who competes exercises self-control in everything. However, they do it to receive a perishable crown, but we an imperishable one. Therefore I do not run like one who runs aimlessly, or box like one who beats the air. Instead, I discipline my body and bring it under strict control, so that after preaching to others, I myself will not be disqualified.
1Co 9:23-27
Therefore, whether we are at home or away, we make it our aim to be pleasing to Him. For we must all appear before the judgment seat of Christ, so that each may be repaid for what he has done in the body, whether good or bad. Knowing, then, the fear of the Lord, we persuade people. We are completely open before God, and I hope we are completely open to your consciences as well.
2Co 5:9-11
Some fancy stuff here on the eastern side of Corinth.
I could hear a fountain gurgling around, but I couldn't see it. No doubt it brought water into this bath area. (assuming it's a bath area)
There was a trough that funneled water somewhere else.
One of the main streets. It led right up to the Bema Seat.
There's a museum that houses a bunch of the artifacts.
Saaaaaay! Didn't we see this in Delphi?
Temple of Apollo.
---
The north side of Corinth
The friendlier side of Corinth

Museum courtyard

---