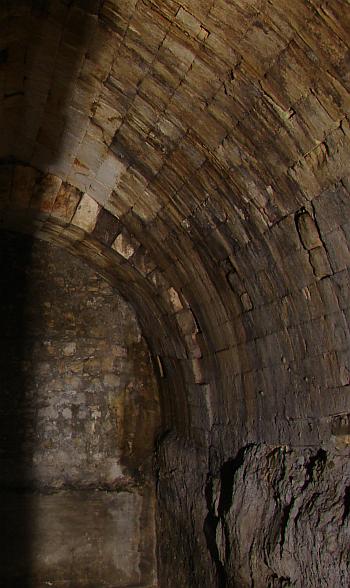 Sitting on the northern side of the temple mount, at one end of the Via Dolorosa is an interesting place called the Antonia Fortress. It is most likely the place where Jesus was tried and beaten by Pilate.
It was built by Herod the Great and it housed the Roman garrison stationed in Jerusalem. It was named after Herod's patron, Mark Antony. Since it was situated on the north end of the temple mount, one could overlook the temple from one of its towers. around it).
The Antonia was destroyed in 70 A.D. by Titus' army during the siege of Jerusalem. Titus captured the fortress as a precursor to attacking the Temple complex. He had the Antonia leveled to allow passage of siege materials to the temple.
– – –
| | |
| --- | --- |
| | There were lots of dungeons and dungeon-like passages. I don't know if it's because the excavations didn't allow for more space or what. |
| | One of the large cisterns in the fortress. The lady here is standing on a platform some 15 feet above the floor of the cistern. |
| | |
| | This stone floor dates back to the time of Christ. It is believed that the carving on the floor was done by Roman guards who used the lines to play various games – like casting lots for prisoner's personal effects.(For more on this, be sure to see the movie clip section) |
| | |
| | This is very likely the place where Jesus was beaten by Pilate. |
| | All kinds of interesting people and faiths in Jerusalem. |
---