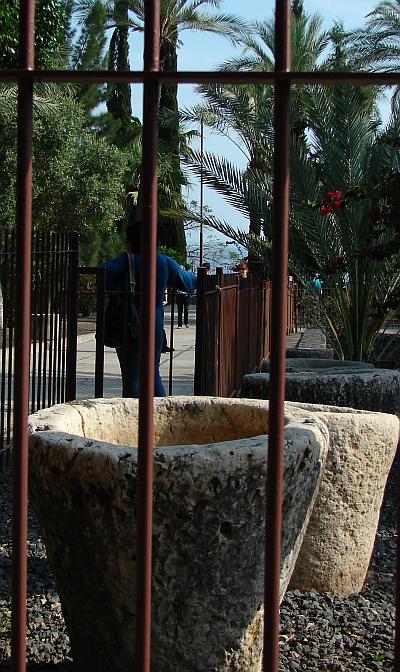 The town of Capernaum lies on the north western end of the Sea of Galilee. This is Peter the Disciple's hometown, and his mother-in-law lived here too. Naturally, someone took advantage of the opportunity and built a church over Peter's mother-in-law's home. Matthew 4:13 says that Jesus left Nazareth and went to live in Capernaum by the sea, so I guess we can also call this Jesus' home town. Back in Jesus' day, about 1500 people lived here.
Capernaum was known for its millstones. Apparently they made and sold a lot of millstones. In this photo you can see a millstone and the Galilee sea in the background. I bet those millstones are heavy.
Capernaum is also the place where the paralytic man was brought by his friends to see Jesus. They removed a section of a roof in order to lower him down. And it was here that the Centurion asked Jesus to simply say the word for his servant to be healed.
– – –
Dr. Dave and Pamela.
I had no idea that millstones came in a variety of shapes and sizes.
I'd always thought that millstones looked like this. Either way, I sure wouldn't want one tied around my neck.
This Franciscan church hovers over a home that Peter's mother-in-law supposedly lived in. It's on stilts so you can still look under the church to see the archaeological site.

Excavations show that this house received some sort of special attention back in the first century. A first-century house church was built over it, and then some 2nd century writings on it, followed by a 5th century Byzantine church, complete with a baptistry.

Inside the chapel. The center of the floor is glass so you can see the excavation underneath the building.
As always, Roman architecture everywhere.
This synagogue was built in the first century. It's credited to the centurion who's servant Jesus healed in Luke 7.
And like most other places in Israel, lots of flowers. This garden wasn't open to the public.
---