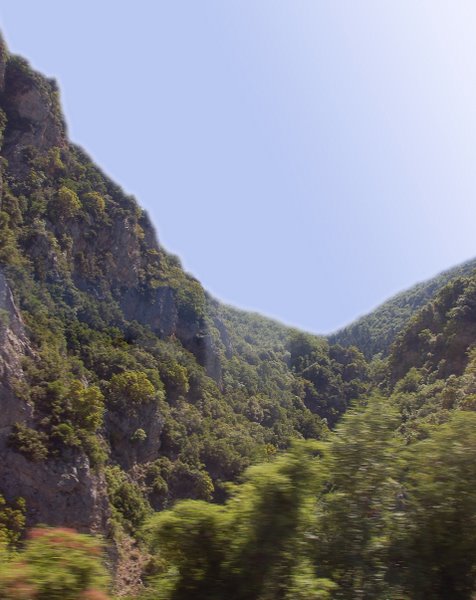 Day 4 took us to Thermopylae.
If you've ever seen the movie "300", you have my pity. But the movie does attempt to point at what was a true battle in history.
Around 490BC, Darius the Great (the same one that defeated Babylon after their king ignored the writing on the wall) sent heralds around to the Greek states offering them the opportunity to submit and avoid war. This would make them eligible for blandishments from the king. As was customary, this request for surrender was signaled by asking for "earth and water". The Athenians responded in their own distinctive style by throwing Darius' emissaries into a pit, and the Spartans by throwing others into a well, with a suggestion to dig out their own earth and water for themselves. Nice.
So Darius attacked them. And lost at the Battle of Marathon in 490BC.
His son, Xerxes (Queen Esther's husband), set off to win what his father had lost. Unfortunately, he followed in his father's footsteps. The Battle of Thermopylae was the first salvo in the Second Persian War.
Xerxes had amassed a large army to march on Greece, but was held up at Thermopylae. King Leonidas, with 300 of his fellow Spartans, was able to hold off the Persians until a traitor told Xerxes how to get around the pass of Thermopylae.
The performance of the defenders at the battle of Thermopylae is often used as an example of the advantages of training, equipment, and good use of terrain as force multipliers, and has become a symbol of courage against overwhelming odds.
Other than the fact that this battle took place in the past, I don't think there's any tie-in with the Bible.
When Rena, our tour guide, pointed a this valley, our bus driver insisted it was elsewheres. Oh, well.
– – –
Nothing quite like music on the bus to help pass the time.
Greece has these neat little towns sprinkled all over its mountains.
---