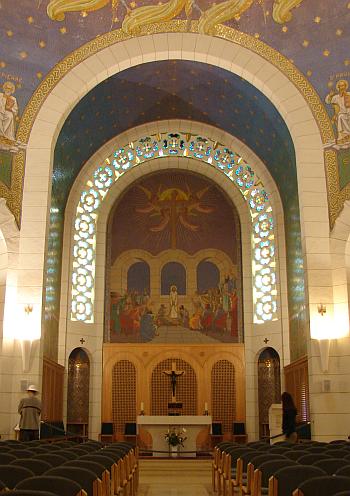 Day 10
The Church of St. Peter Gallicantu (Church of the Cock's Crow) is built in an area where the Sanhedrin lived in Jerusalem. There's good reason to believe that it truly is placed where Jesus was held and where Peter denied Christ. It's also the same location in town where the last supper was held.
When the caves beneath the church were rediscovered in 1889, their physical characteristics, proximity to Caiaphas' palace and their contiguity with the dungeon all suggested the public jail where, according to a 4th-century Jerusalem tradition, Jesus would have been scourged not only by Pilate, but also by Caiaphas. It's the same place where Peter and John would have been held and scourged for preaching in the name of Jesus in the temple area after the resurrection (Acts 5:19-42).
Most of the churches that commemorate a Biblical site have one thing in common: excessive gaudiness. I think it's driven by a 'works' mentality. Pretty sad to see, actually.
The Church of the Cock Crow was very ornate, but very tasteful. As far as these churches go, I'd have to say it was my favorite. Very nice, but not overdone.
– – –
This is the main sanctuary.
Stained glass design on the ceiling.
Below the chapel is where things get interesting. There are a set of caves that were once dungeons and prison cells.(For more on this, be sure to see the movie clip section)
This is the lowest of the cells. It had two holes cut in the top of the room. I'm not sure why.
Out in the backyard were some more ruins dating back to Caiphas' time."Lord," Peter asked, "why can't I follow You now? I will lay down my life for You!"

Jesus replied, "Will you lay down your life for Me? I assure you: A rooster will not crow until you have denied Me three times. (Joh 13:37-38 HCSB)

(For more on this, be sure to see the movie clip section)

Now Peter was sitting outside in the courtyard. A servant approached him and she said, "You were with Jesus the Galilean too." But he denied it in front of everyone: "I don't know what you're talking about!" When he had gone out to the gateway, another woman saw him and told those who were there, "This man was with Jesus the Nazarene!" And again he denied it with an oath, "I don't know the man!" After a little while those standing there approached and said to Peter, "You certainly are one of them, since even your accent gives you away." Then he started to curse and to swear with an oath, "I do not know the man!" Immediately a rooster crowed, and Peter remembered the words Jesus had spoken, "Before the rooster crows, you will deny Me three times." And he went outside and wept bitterly.  (Mat 26:69-75 HCSB)
I figure Jesus very likely walked up these steps. Dittos for Peter and John when they were held for preaching the resurrected Christ in the temple.Now as they were speaking to the people, the priests, the commander of the temple guard, and the Sadducees confronted them, because they were provoked that they were teaching the people and proclaiming in the person of Jesus the resurrection from the dead. So they seized them and put them in custody until the next day, since it was already evening. (Act 4:1-3 HCSB)