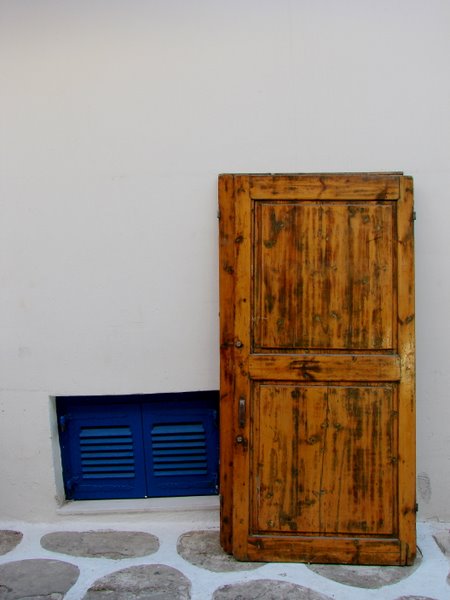 The lovely isle of Mykonos! It's pronounced MEE-ko-nos. And it's drop-dead gorgeous! That might help explain why it's a #1 international tourist destination. The white square cycladic-styled houses sprinkled along the hillside, dotted with occasional bright church domes and windmills are met with a warm ocean breeze that give it a sense of tranquility that's almost magical. Small wonder the entire island has been declared a national museum. If you're traveling with kids, be aware that it's considered a "gay-friendly" resort area and you may have to cover your kids' eyes on occasion.
In Greek mythology Mykonos was the location of the battle between Zeus and the Gigantes, and the island was named in honor of Apollo's grandson Mykons.
I don't think Paul ever came to this island.
– – –
| | |
| --- | --- |
| | While the island was tranquil, the winds as we were pulling into the island were anything but tranquil! If I were guessing, I'd say they were upwards of 50 mph. |
| | Gorgeous blue water! |
| | |
| | The sign at the restaurant said "sun-dried octopus". They weren't kidding. |
| | Try as I might, I can't find the name of this church online. There are tons of references to "red domed church", but no one bothered to list the name of it. The church was actually quite tiny. Smaller than the church at the bottom of this page. |
| | Blue shutters everywhere. I think it's the law. |
| | |
| | That's our ship, almost in the center of the photo. We had to tender in to shore (take a small boat), then ride a bus for 2 miles to get to the city. |
| | |
| | |
| | Lots of small churches around. |
| | |
| | |
| | |
---
Shores of Mykonos
---