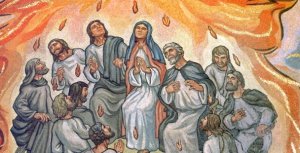 This is a follow up to my previous article on the association of the Holy Spirit to the believers in the OT and NT.
Here's a table to all the references I can find in the Bible where the Spirit of God (or Christ) is said to affect a person. The words used are typically "in", "on", "with", or "filled".  For this article, the NET and NIV were used. There is no significant difference between the various versions studied (ESV, KJV, NET, NIV).
As you can see, there is no strong pattern here that allows us to conclude that the Holy Spirit was "on" the Old Testament saints, but is now "in" the NT saints. The following references are of particular interest:
Peter, of all people, should have used "in" to describe NT saints and "on" to describe OT saints – or so we would think. Yet he does the exact opposite!
It's worth mentioning that nowhere in Acts is it said that the Holy Spirit was "in" anyone. Like the OT authors, Luke only uses the words "on" and "filled".
The Jn 7 & 14 passages below are interesting because they would seem to negate the whole point of this article. Yet the OT and NT references make it clear that the Holy Spirit was "in", "on" and "filled" the OT saints, so it's a bit difficult to understand what Jesus is saying here. It's important to note that John says nothing about the Holy Spirit leaving anyone (eg, He doesn't say "For the Holy Spirit has not yet come such that He won't leave"). John only talks about the Holy Spirit being given. If John wanted to emphasize the soon-to-come permanent nature of the Holy Spirit, wouldn't he talk about it more directly? It makes more sense to interpret him as describing a future event (or series of events), and not a future change of the Holy Spirit's methods.
Some verses say that the Holy Spirit was "on" Jesus. Since He is one with God, shouldn't the Holy Spirit be "in" Jesus?
Some of the references have an evil spirit from the Lord. Various scholars have differing opinions on what exactly this means, but the way this spirit operates on people doesn't appear to be any different than the way the Holy Spirit operates on people.
Enjoy!
| Special | Word | Reference | Verse |
| --- | --- | --- | --- |
| | In | Gen 6:3 | So the LORD said, "My spirit will not remain in humankind indefinitely, since they are mortal. They will remain for 120 more years." |
| | In | Gen 41:38 | So Pharaoh asked them, "Can we find anyone like this man, one in whom is the spirit of God?" |
| | Filled | Exo 28:3 | You are to speak to all who are specially skilled, whom I have filled with the spirit of wisdom, so that they may make Aaron's garments to set him apart to minister as my priest. NET |
| | Filled | Exo 31:3 | and I have filled him with the Spirit of God, with skill, ability and knowledge in all kinds of crafts– NIV |
| | Filled | Exo 35:31 | and he has filled him with the Spirit of God, with skill, ability and knowledge in all kinds of crafts– NIV |
| | On | Num 11:17 | Then I will come down and speak with you there, and I will take part of the spirit that is on you, and will put it on them, and they will bear some of the burden of the people with you, so that you do not bear it all by yourself. NET |
| | On | Num 11:25 | Then the Lord came down in the cloud and spoke with him, and he took of the Spirit that was on him and put the Spirit on the seventy elders. When the Spirit rested on them, they prophesied, but they did not do so again. NIV |
| | On | Num 11:26 | However, two men, whose names were Eldad and Medad, had remained in the camp. They were listed among the elders, but did not go out to the Tent. Yet the Spirit also rested on them, and they prophesied in the camp. NIV |
| | On | Num 11:29 | Moses said to him, "Are you jealous for me? I wish that all the LORD's people were prophets, that the LORD would put his Spirit on them!" NET |
| | In | Num 27:18 | So the Lord said to Moses, "Take Joshua son of Nun, a man in whom is the spirit, and lay your hand on him. NIV |
| | Filled | Deut 34:9 | Now Joshua son of Nun was full of the spirit of wisdom, for Moses had placed his hands on him; and the Israelites listened to him and did just what the LORD had commanded Moses. NET |
| | Upon | Judg 14:6 | The Spirit of the Lord came upon him in power so that he tore the lion apart with his bare hands as he might have torn a young goat. But he told neither his father nor his mother what he had done. NIV |
| | Upon | Judg 14:19 | Then the Spirit of the Lord came upon him in power. He went down to Ashkelon, struck down thirty of their men, stripped them of their belongings and gave their clothes to those who had explained the riddle. Burning with anger, he went up to his father's house. NIV |
| | Upon | Judg 15:14 | As he approached Lehi, the Philistines came toward him shouting. The Spirit of the Lord came upon him in power. The ropes on his arms became like charred flax, and the bindings dropped from his hands. NIV |
| | Upon | 1 Sam 10:6 | The Spirit of the Lord will come upon you in power, and you will prophesy with them; and you will be changed into a different person. NIV |
| | Upon | 1 Sam 10:10 | When they arrived at Gibeah, a procession of prophets met him; the Spirit of God came upon him in power, and he joined in their prophesying. NIV |
| | Upon | 1 Sam 11:6 | When Saul heard their words, the Spirit of God came upon him in power, and he burned with anger. NIV |
| | Upon | 1 Sam 16:13 | So Samuel took the horn of oil and anointed him in the presence of his brothers, and from that day on the Spirit of the Lord came upon David in power. Samuel then went to Ramah. NIV |
| Evil, Lying | Upon | 1 Sam 18:10 | The next day an evil spirit from God came forcefully upon Saul. He was prophesying in his house, while David was playing the harp, as he usually did. Saul had a spear in his hand NIV |
| Evil, Lying | Upon | 1 Sam 19:9 | But an evil spirit from the Lord came upon Saul as he was sitting in his house with his spear in his hand. While David was playing the harp, NIV |
| Lying | In | 1 Kings 22:23 | So now the Lord has put a lying spirit in the mouths of all these prophets of yours. The Lord has decreed disaster for you. NIV |
| (Questionable) | In | 2 Kings 19:7 | Listen! I am going to put such a spirit in him that when he hears a certain report, he will return to his own country, and there I will have him cut down with the sword.'" NIV |
| | Upon | 1 Chr 12:18 | ​Then the Spirit came upon Amasai, chief of the Thirty, and he said: "We are yours, O David! We are with you, O son of Jesse! Success, success to you, and success to those who help you, for your God will help you." So David received them and made them leaders of his raiding bands. NIV |
| Lying | In | 2 Chr 18:22 | So now the Lord has put a lying spirit in the mouths of these prophets of yours. The Lord has decreed disaster for you. NIV |
| | Upon | 2 Chr 20:14 | Then the Spirit of the Lord came upon Jahaziel son of Zechariah, the son of Benaiah, the son of Jeiel, the son of Mattaniah, a Levite and descendant of Asaph, as he stood in the assembly. NIV |
| | With | Neh 9:30 | For many years you were patient with them. By your Spirit you admonished them through your prophets. Yet they paid no attention, so you handed them over to the neighboring peoples. NIV |
| (Questionable) | In | Job 32:8 | But it is the spirit in a man, the breath of the Almighty, that gives him understanding. NIV |
| (Questionable) | In | Ps 51:10 | Create in me a pure heart, O God, and renew a steadfast spirit within me. NIV |
| | On | Isa 11:2 | The LORD's spirit will rest on him – a spirit that gives extraordinary wisdom, a spirit that provides the ability to execute plans, a spirit that produces absolute loyalty to the LORD. NET |
| (Questionable) | In | Isa 37:7 | Listen! I am going to put a spirit in him so that when he hears a certain report, he will return to his own country, and there I will have him cut down with the sword.'" NIV |
| Jesus | On | Isa 42:1 | Here is my servant, whom I uphold, my chosen one in whom I delight; I will put my Spirit on him and he will bring justice to the nations. NIV |
| | On | Isa 44:3 | For I will pour water on the parched ground and cause streams to flow on the dry land. I will pour my spirit on your offspring and my blessing on your children. NET |
| | With | Isa 48:16 | Come near me and listen to this: From the first announcement I have not spoken in secret; at the time it happens, I am there." And now the Sovereign Lord has sent me, with his Spirit. NIV |
| | On | Isa 59:21 | As for me, this is my covenant with them, says the Lord. "My Spirit, who is on you, and my words that I have put in your mouth will not depart from your mouth, or from the mouths of your children, or from the mouths of their descendants from this time on and forever," says the Lord. NIV |
| | Among | Isa 63:11 | Then his people recalled the days of old, the days of Moses and his people– where is he who brought them through the sea, with the shepherd of his flock? Where is he who set his Holy Spirit among them? NIV |
| | Into | Eze 3:24 | ​Then the Spirit came into me and raised me to my feet. He spoke to me and said: "Go, shut yourself inside your house." NIV |
| | In | Eze 11:19 | I will give them an undivided heart and put a new spirit in them; I will remove from them their heart of stone and give them a heart of flesh. NIV |
| | In | Eze 36:26 | I will give you a new heart and put a new spirit in you; I will remove from you your heart of stone and give you a heart of flesh. NIV |
| | In | Eze 36:27 | And I will put my Spirit in you and move you to follow my decrees and be careful to keep my laws. NIV |
| | In | Eze 37:14 | I will put my Spirit in you and you will live, and I will settle you in your own land. Then you will know that I the Lord have spoken, and I have done it, declares the Lord.'" NIV |
| | On | Eze 39:29 | I will no longer hide my face from them, when I pour out my Spirit on the house of Israel, declares the sovereign LORD." NET |
| | In | Dan 4:8 | Finally, Daniel came into my presence and I told him the dream. (He is called Belteshazzar, after the name of my god, and the spirit of the holy gods is in him.) NIV |
| | In | Dan 4:9 | I said, "Belteshazzar, chief of the magicians, I know that the spirit of the holy gods is in you, and no mystery is too difficult for you. Here is my dream; interpret it for me. NIV |
| | In | Dan 4:18 | This is the dream that I, King Nebuchadnezzar, had. Now, Belteshazzar, tell me what it means, for none of the wise men in my kingdom can interpret it for me. But you can, because the spirit of the holy gods is in you. NIV |
| | In | Dan 5:11 | There is a man in your kingdom who has the spirit of the holy gods in him. In the time of your father he was found to have insight and intelligence and wisdom like that of the gods. King Nebuchadnezzar your father–your father the king, I say–appointed him chief of the magicians, enchanters, astrologers and diviners. NIV |
| | In | Dan 5:14 | I have heard that the spirit of the gods is in you and that you have insight, intelligence and outstanding wisdom. NIV |
| | Filled/In | Micah 3:8 | ​But as for me, I am filled with power, with the Spirit of the Lord, and with justice and might, to declare to Jacob his transgression, to Israel his sin. NIV |
| | On | Joel 2:28 | (3:1) After all of this I will pour out my Spirit on all kinds of people. Your sons and daughters will prophesy. Your elderly will have revelatory dreams; your young men will see prophetic visions. NET |
| | On | Joel 2:29 | Even on male and female servants I will pour out my Spirit in those days. NET |
| | Among | Hag 2:5 | This is what I covenanted with you when you came out of Egypt. And My Spirit remains among you. Do not fear. NIV |
| | On | Zech 12:10 | I will pour out on the kingship of David and the population of Jerusalem a spirit of grace and supplication so that they will look to me, the one they have pierced. They will lament for him as one laments for an only son, and there will be a bitter cry for him like the bitter cry for a firstborn. NET |
| Implied permanence | In | Mal 2:15 | No one who has even a small portion of the Spirit in him does this. What did our ancestor do when seeking a child from God? Be attentive, then, to your own spirit, for one should not be disloyal to the wife he took in his youth. NET |
| Jesus | On | Mat 3:16 | After Jesus was baptized, just as he was coming up out of the water, the heavens opened and he saw the Spirit of God descending like a dove and coming on him. NET |
| Jesus | On | Mat 12:18 | Here is my servant whom I have chosen, the one I love, in whom I delight; I will put my Spirit on him, and he will proclaim justice to the nations. NIV |
| Jesus | On | Mark 1:10 | And just as Jesus was coming up out of the water, he saw the heavens splitting apart and the Spirit descending on him like a dove. NET |
| Baby | Filled | Luke 1:15 | for he will be great in the sight of the Lord. He must never drink wine or strong drink, and he will be filled with the Holy Spirit, even before his birth. NET |
| | Filled | Luke 1:41 | When Elizabeth heard Mary's greeting, the baby leaped in her womb, and Elizabeth was filled with the Holy Spirit. NET |
| | Filled | Luke 1:67 | Then his father Zechariah was filled with the Holy Spirit and prophesied, NET |
| | Upon | Luke 2:25 | Now there was a man in Jerusalem called Simeon, who was righteous and devout. He was waiting for the consolation of Israel, and the Holy Spirit was upon him. NIV |
| Jesus | On | Luke 3:22 | and the Holy Spirit descended on him in bodily form like a dove. And a voice came from heaven, "You are my one dear Son; in you I take great delight." NET |
| Jesus | Filled | Luke 4:1 | Jesus, full of the Holy Spirit, returned from the Jordan and was led by the Spirit in the desert, NIV |
| Jesus | On | John 1:32 | Then John testified, "I saw the Spirit descending like a dove from heaven, and it remained on him." NET |
| Jesus | On | John 1:33 | And I did not recognize him, but the one who sent me to baptize with water said to me, 'The one on whom you see the Spirit descending and remaining – this is the one who baptizes with the Holy Spirit.' NET |
| (may negate) | x | John 7:39 | By this he meant the Spirit, whom those who believed in him were later to receive. Up to that time the Spirit had not been given, since Jesus had not yet been glorified. NIV |
| (may negate) | With & In | John 14:17 | the Spirit of truth. The world cannot accept him, because it neither sees him nor knows him. But you know him, for he lives with you and will be in you. NIV |
| | On | Acts 1:8 | But you will receive power when the Holy Spirit comes on you; and you will be my witnesses in Jerusalem, and in all Judea and Samaria, and to the ends of the earth." NIV |
| | Filled | Acts 2:4 | All of them were filled with the Holy Spirit, and they began to speak in other languages as the Spirit enabled them. NET |
| | On | Acts 2:17 | 'In the last days, God says, I will pour out my Spirit on all people. Your sons and daughters will prophesy, your young men will see visions, your old men will dream dreams. NIV |
| | On | Acts 2:18 | Even on my servants, both men and women, I will pour out my Spirit in those days, and they will prophesy. NIV |
| | Filled | Acts 4:8 | Then Peter, filled with the Holy Spirit, replied, "Rulers of the people and elders, NET |
| | Filled | Acts 4:31 | When they had prayed, the place where they were assembled together was shaken, and they were all filled with the Holy Spirit and began to speak the word of God courageously. NET |
| | Filled | Acts 9:17 | So Ananias departed and entered the house, placed his hands on Saul and said, "Brother Saul, the Lord Jesus, who appeared to you on the road as you came here, has sent me so that you may see again and be filled with the Holy Spirit." NET |
| | On | Acts 10:44 | While Peter was still speaking these words, the Holy Spirit fell on all those who heard the message. NET |
| | On | Acts 10:45 | The circumcised believers who had accompanied Peter were greatly astonished that the gift of the Holy Spirit had been poured out even on the Gentiles, NET |
| | On | Acts 11:15 | Then as I began to speak, the Holy Spirit fell on them just as he did on us at the beginning. NET |
| | Filled | Acts 13:9 | But Saul (also known as Paul), filled with the Holy Spirit, stared straight at him NET |
| | Filled | Acts 13:52 | And the disciples were filled with joy and with the Holy Spirit. NET |
| | On | Acts 19:6 | When Paul placed his hands on them, the Holy Spirit came on them, and they spoke in tongues and prophesied. NIV |
| | In | Rom 8:9 | You, however, are controlled not by the sinful nature but by the Spirit, if the Spirit of God lives in you. And if anyone does not have the Spirit of Christ, he does not belong to Christ. NIV |
| | In | Rom 8:11 | And if the Spirit of him who raised Jesus from the dead is living in you, he who raised Christ from the dead will also give life to your mortal bodies through his Spirit, who lives in you. NIV |
| | In | 1 Cor 3:16 | Don't you know that you yourselves are God's temple and that God's Spirit lives in you? NIV |
| | In | 1 Cor 6:19 | Do you not know that your body is a temple of the Holy Spirit, who is in you, whom you have received from God? You are not your own; NIV |
| | In | 2 Cor 1:22 | set his seal of ownership on us, and put his Spirit in our hearts as a deposit, guaranteeing what is to come. NIV |
| | In | Eph 2:22 | And in him you too are being built together to become a dwelling in which God lives by his Spirit. NIV |
| | In | Eph 3:16 | I pray that out of his glorious riches he may strengthen you with power through his Spirit in your inner being, NIV |
| | Filled | Eph 5:18 | And do not get drunk with wine, which is debauchery, but be filled by the Spirit, NET |
| | In | 2 Tim 1:14 | Guard the good deposit that was entrusted to you–guard it with the help of the Holy Spirit who lives in us. NIV |
| | In | Jam 4:5 | Or do you think Scripture says without reason that the spirit he caused to live in us envies intensely? NIV |
| | In | 1 Pet 1:11 | trying to find out the time and circumstances to which the Spirit of Christ in them was pointing when he predicted the sufferings of Christ and the glories that would follow. NIV |
| | On | 1 Pet 4:14 | If you are insulted for the name of Christ, you are blessed, because the Spirit of glory, who is the Spirit of God, rests on you. NET |
| | In | 1 John 3:24 | Those who obey his commands live in him, and he in them. And this is how we know that he lives in us: We know it by the Spirit he gave us. NIV |
| | In | 1 John 4:13 | We know that we live in him and he in us, because he has given us of his Spirit. NIV |