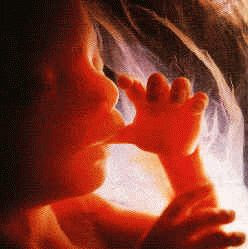 In discussing abortion and infant death, we invariably come around to asking "What's going on in the womb?" and "Do babies go to heaven?" While science cannot answer the second question, it can give us some information about the first. Science tells us when the brain is formed, when the heart starts beating, what the baby looks like, and a mother has her own set of experiences to corroborate this (baby's movement, hiccups, etc).
However, the Bible also informs us of things going on in the womb – things we could not know without Special revelation:
We're not told that the actions of these babies were limited to just these 4 people (David, his son, the Messiah and John the Baptist), and we see nothing in the rest of Scripture to say that these can't be true for any other child of God. So I don't think there's no harm in concluding that the same can be true for any other child of God. In fact, given these verses, I would say that it takes special effort to conclude that these are not true of other babies as well.
While we all appreciate nice things about babies, we want to also bear in mind that the Bible says 'not so nice' things about some babies. Many babies were the subject of divine judgment (Noah's flood, Sodom & Gomorrah, Joshua's conquest of Canaan), so I think we'd be rushing it a bit if we said that all babies have faith in God. So which babies do have faith in God? The Bible doesn't say. I'm content to say that it applies at least to elect babies.
Are Babies Elect?
I emphasize 'elect babies', because the Bible has some very uncomfortable things to say about babies with regard to the natural man and wicked people. We can't ignore these passages:
I can't say that I find these passages to be cheery, but they're in the Bible and they're part of the discussion, so they have to be mentioned.
Ye Have Heard It Said…
There are a number of passages that are typically put forward as arguments for all infants being saved. I don't find them compelling:
He answered, "While the baby was alive, I fasted and wept because I thought, 'Who knows? The LORD may be gracious to me and let him live.' But now that he is dead, why should I fast? Can I bring him back again? I'll go to him, but he will never return to me."  ( ) The thinking here is that David was comforted in the fact that he would one day see his infant son. Because David believed his son was heaven-bound, we should think all babies are heaven-bound.
But this doesn't follow. David is talking specifically about his own son, not every infant. Additionally, as a prophet of God, it's not illogical to believe that he received special revelation from God regarding his son. That doesn't mean every child will share the same fate (as the previous list of passages demonstrate).
Your little children, whom you said would be plunder, your sons who don't know good from evil, will enter there. I will give them the land, and they will take possession of it.  () The thinking here is that since children don't know good from evil, they're exempt from the guilt of sin.
The particular passage is about the Israelites rejecting the command to go into Canaan. Because of their disobedience/disbelief, they were punished by wandering in the wilderness for 40 years. Caleb, Joshua and all those under 20 years of age were (eventually) allowed to enter the Promised Land. There are several problems if we try to go this route to support the idea of children going to heaven:
– This necessitates the concept of an "age of accountability", a doctrine found nowhere in Scriptures.
– This passage is about kids under 20. I sincerely hope that no one in their right mind believes that teenagers don't know good from evil. Furthermore, later in the same book, parents are commanded to stone rebellious children (). Stoning kids who don't know good from evil?
– Knowing good from evil is not a sign that one has no sin, it is a sign that one has no knowledge, and that comes with maturity ().  This is true of children and adults.
– Just because you don't have knowledge of wrong-doing doesn't mean you're not culpable ()
– What do we do with the plethora of passages where God destroyed children and/or commanded the destruction of children? (Noah's Flood, Sodom & Gomorrah, Korah's Rebellion, Joshua's Conquest of Canaan, etc)
For God's wrath is revealed from heaven against all godlessness and unrighteousness of people who by their unrighteousness suppress the truth, since what can be known about God is evident among them, because God has shown it to them. For His invisible attributes, that is, His eternal power and divine nature, have been clearly seen since the creation of the world, being understood through what He has made. As a result, people are without excuse.   () Some people use this passage to say that since infants (and mentally challenged people, savages in the "deepest, darkest jungles of Africa", etc) have not seen God's Word, and could not believe – therefore they are not guilty. However, this passage isn't talking about believing for salvation. It's talking about seeing nature and realizing that there is a just God who will judge. As Jesus said in , even if they don't know, they're still headed for judgment. Ignorance is no excuse for violating God's moral law.
Babies In Heaven?
Q: How then does an infant get to heaven?
Seems to me that it's the same as any adult: by grace through faith (). And that faith comes through hearing, and hearing comes through the Word of God ().
Q: How does an infant hear the Word of God?
My response is actually pretty simple: God can and will communicate through a variety of agents: Adults, children, donkeys, stones, angels and the Holy Spirit. Adults and children are (usually) limited so that they can only speak in their own language, but angels and the Holy Spirit are not. They can communicate in any language – even such that a donkey – and surely a baby – can understand. That sounds incredibly bizarre – but how else do we explain the fact that John the Baptist, while still in the womb, knew that Jesus was near? Someone communicated this information to him – an angel or the Holy Spirit (likely the latter). And that same One who told him that Jesus was near, surely has the ability to explain saving faith to this infant such that the infant can believe .. which is essentially what says.
It's an unconventional position to take, but I don't see anything in the Bible that prevents it from being the case. In fact, I actually see a consistent basis for supporting it.
Thoughts?