We made a special Yahtzee game for some friends.
The goal was to have dice that were 2″ across and score cards 2x the size of the original. And the cards had to look spot-on like the 1950s originals.
But since I had neither the time nor the inclination to purchase vintage originals from eBay, and because I needed the score cards to be 2x the size of the originals, I had to make my own. I used Word (for the most part). I think they turned out rather nicely, actually.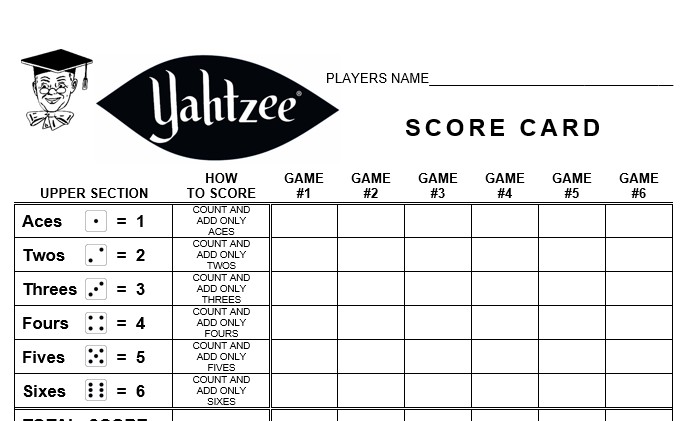 If you're looking to download them, have at it:
Vintage Yahtzee ScoreCard – PDF
Vintage Yahtzee ScoreCard – DOC
Some Challenges
I'm not an artist so I had to come up with some crazy scheme to make the professor's face right. Google couldn't find a JPG with a high enough resolution, so I used a color scan of the box top, and then use Inkscape to automatically find the edges and convert to black and white (ALT-B). From there, it was fairly trivial to Photoshop the rest of the image so it came pretty darn close to the original.
The logo was a lot easier. I couldn't find any Yahtzee fonts out there, so I used LibreOffice Draw (I know, I know…) to draw the basic shape. Then I used Photoshop to copy the original text off the box, change the color to white, and drop it onto the Draw image.
To do common shapes like the dice, it's usually fairly trivial to find free fonts with those shapes. But as luck would have it, I couldn't find any. So I made some font GIFs using Draw. Fairly simple process, actually.
Then I used Word's tables to create the rest of the doc.
All punctuation is in keeping with the original. ..except for the fine print, of course.
Enjoy. ..and post a comment below.
Download Free Yahtzee cards (giant sized!)