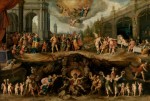 What do people in heaven think of people in hell?
Can people in heaven see people in hell and vice-versa?
While many within conservative Christianity prefer not to think about the question (and who can blame them?), the Bible actually addresses this question with some consistency. Here are a few passages worth considering.
On one […]