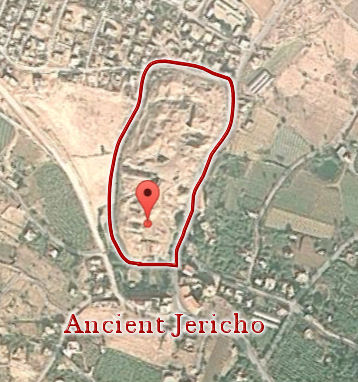 Archeologist of all stripes – Biblical, secular and otherwise – affirm that the ancient city of Jericho has walls that did indeed come a-tumbling down. They even affirm that the walls tumbled outwards instead of inwards – not at all what you'd expect for a city under siege. You can see the 9-acre archaeological site by punching in "31.870037, 35.443788" in Google Earth or Google Maps. Not too shabby for the world's oldest continually-inhabited city.
But wait – there's more!
We know Joshua's army was somewhere between 200,000 and 600,000 men. But what was Jericho's population?
Item 1: Archaeologists will tell you that the population of an ancient fortified city (like Jericho) is about 100 people per acre. Since the walled city of Jericho encompasses 9 acres, that would put the population around 900 people.
Item 2: Archaeologists will also tell you that when a region is under siege, farmers and residents in outlying villages will hunker down in the fortified city of their region (ie, Jericho). Under these situations, the population effectively doubles to about 200 people per acre. We're now up to ~1800 for Jericho. In keeping with this assessment, Answers In Genesis's article on Jericho puts the number somewhere around "several thousand".
Which makes me say "hmmmmmmmm." Something's not adding up.
Consider:
So…
If ittty bitty Ai had 12,000 citizens, how is it that Jericho had only 2,000??
Surely Jericho had upwards of 20,000. Or more!
And how did all 20,000 get cramped into 9 acres?
Methinks some archaeologists might need to rethink this one.